From feeling stuck to building an audience with your content

The LinkedIn Ideation SystemTM walks you through a proven framework with step-by-step videos & Notion templates, for ongoing content ideation that destroys creator's block and helps you build an audience.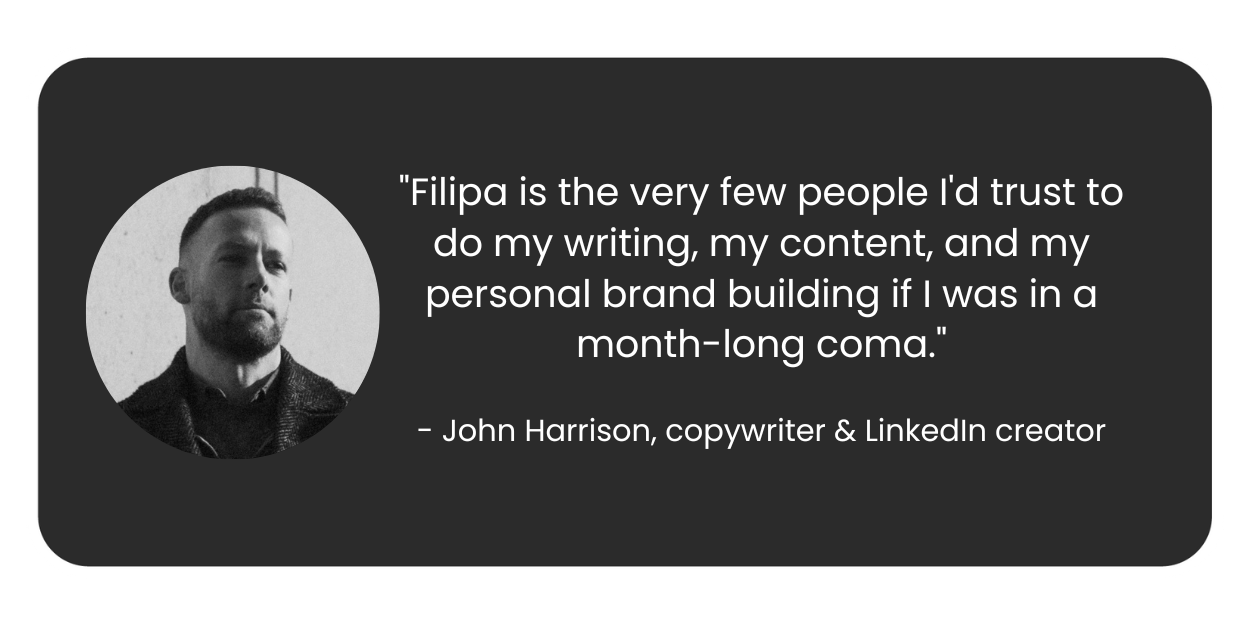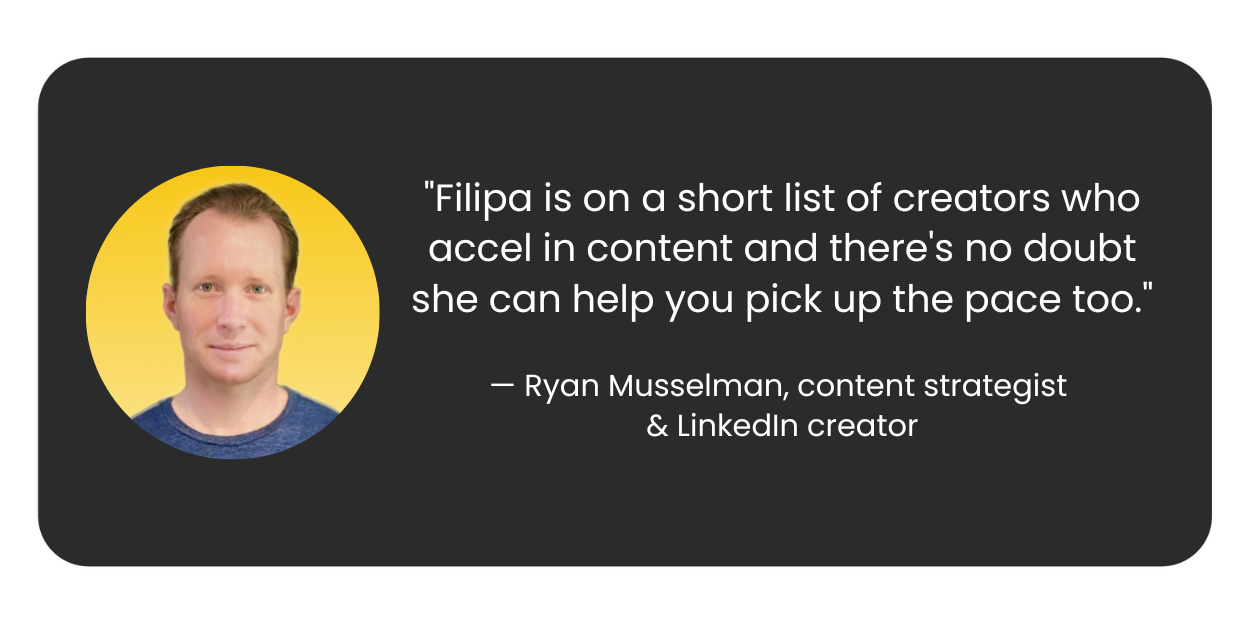 Stop struggling with consistency.
Start creating faster, on schedule & creatively.
You're not getting the results you want from your content because you don't have a system.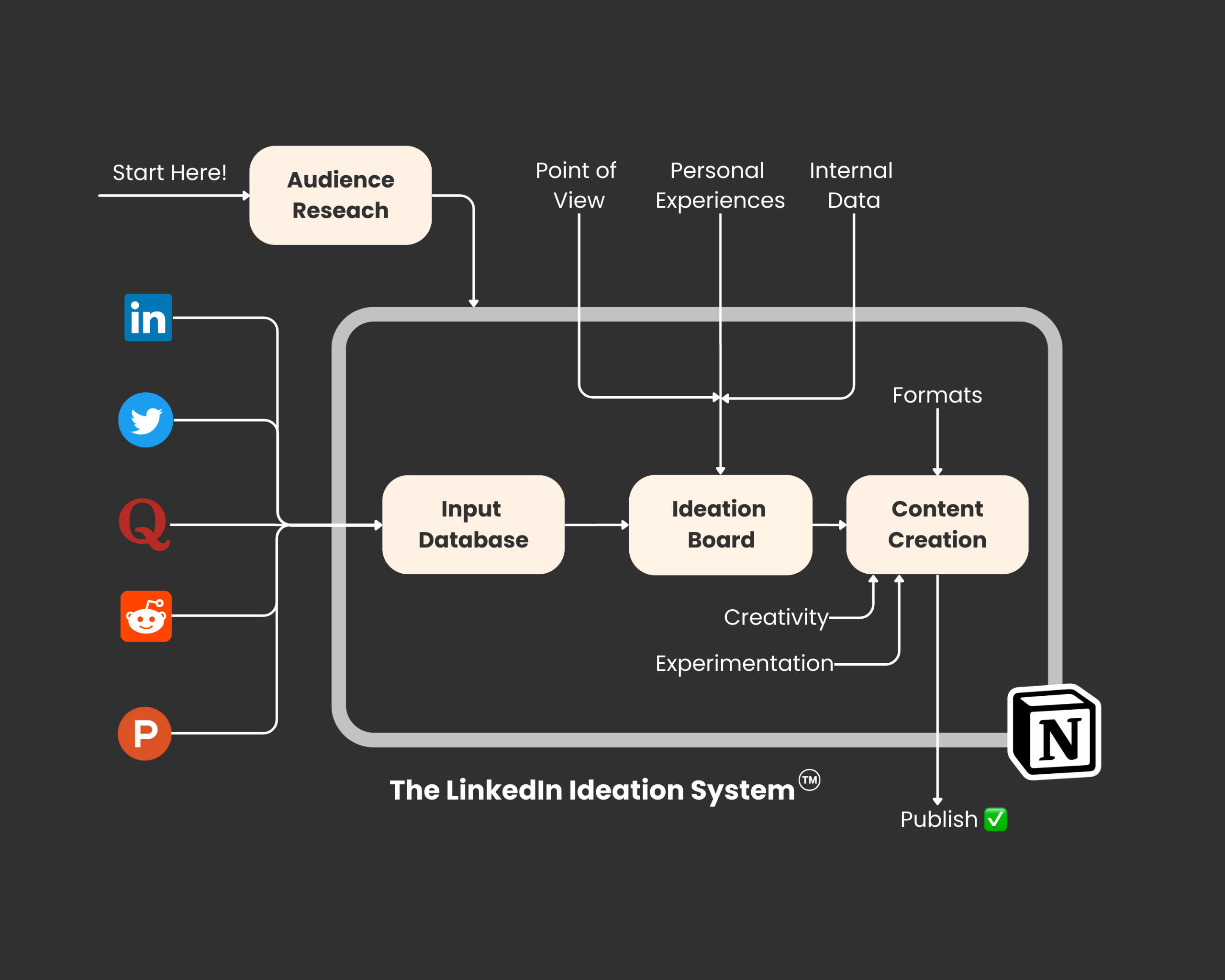 An actionable & complete video course with ready-to-use Notion templates.The LinkedIn Ideation SystemTM starts with you and your goals. From there, we reverse engineer the process of turning any content idea into a post that educates and converts.With actionable step-by-step videos and ready-to-use Notion templates, you'll finally get to build a system for generating fresh content ideas, at scale.I've taken the guesswork out of creating a successful content strategy, so you can focus on driving meaningful results.

This is the system I personally use
Hey, I'm Filipa Canelas 👋
I've been creating content for 8+ years. It started with my obsession with productivity, which led to teaching 40,000+ students online, building a business and publishing a book.I switched gears to content marketing (studied the hell out of it) and built my LinkedIn following to 30k followers, 10M+ impressions and helped many others achieve similar results.The LinkedIn Ideation SystemTM is the exact framework I use to manage my content and my clients -- which has generated millions of dollars in pipeline.It's the product of years of experience, and I can't wait for you to try it.
Here's what you get with the
LinkedIn Ideation SystemTM
Module 01👤 Your audience is a goldmine
Dig into your audience's insights and find the gold nuggets that will help you create content they LOVE with a fast & actionable approach.- Figure out what your audience consumes and talks about online.- Curate the best sources of content ideas.- Collect their questions, pain points & suggestions (this is the starting point for content ideation)
Module 02🔎 Become an Ideation Alchemist
Step-by-step tutorial on how to convert sources like Quora, Reddit or Google Trends into a steady stream of inspiring topics for your content calendar.- Generate topics your audience will love (no more guesswork).- My step-by-step process to uncover ideas from 10+ sources (including some secret ones).- Creative hacks & tips to find endless content ideas that your competitors don't know about.
Module 03⚙️ Build a Scalable Creation System
It's time to take your ideas, put them on steroids and never run out of content.- Advanced techniques to turn any "good" idea into a winner post that builds your following and your bank account.- Watch me create different pieces of content and leverage different content formats, step-by-step
Module 04💡 How to Win on LinkedIn
You've nailed research, ideation and content creation. The last module of the course focuses on how to win big on LinkedIn.- Implement the 4-growth unlockers for faster results.- Steal my engagement and networking formula.- My rules for winning on LinkedIn, 2 years and 30,000+ followers later.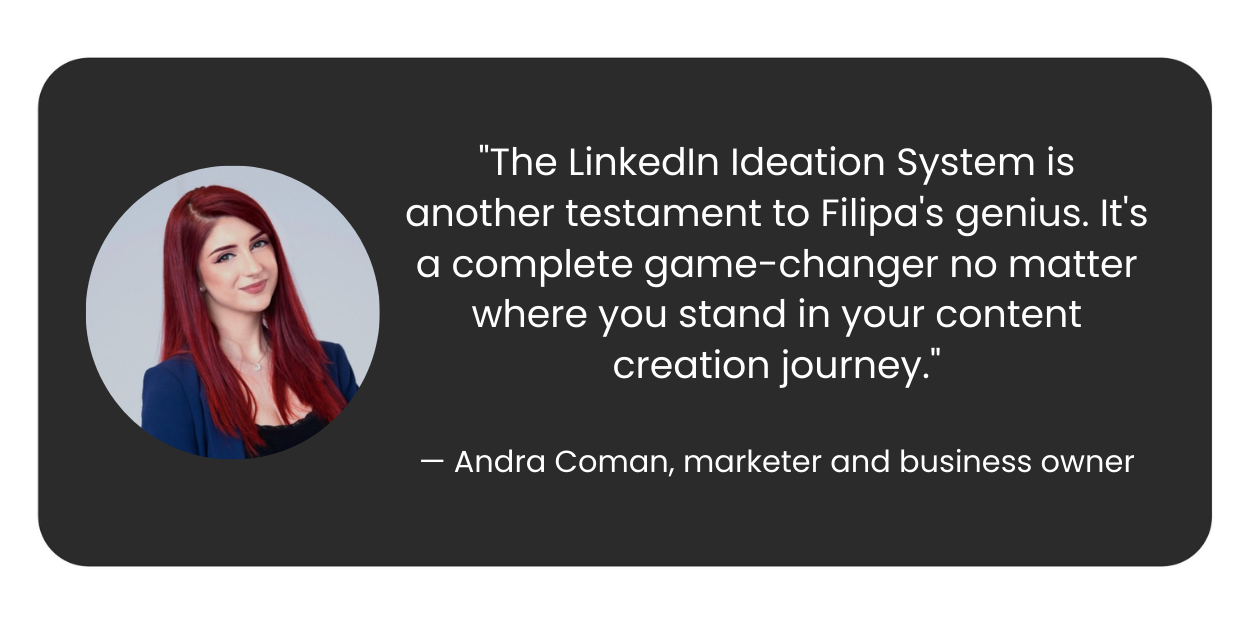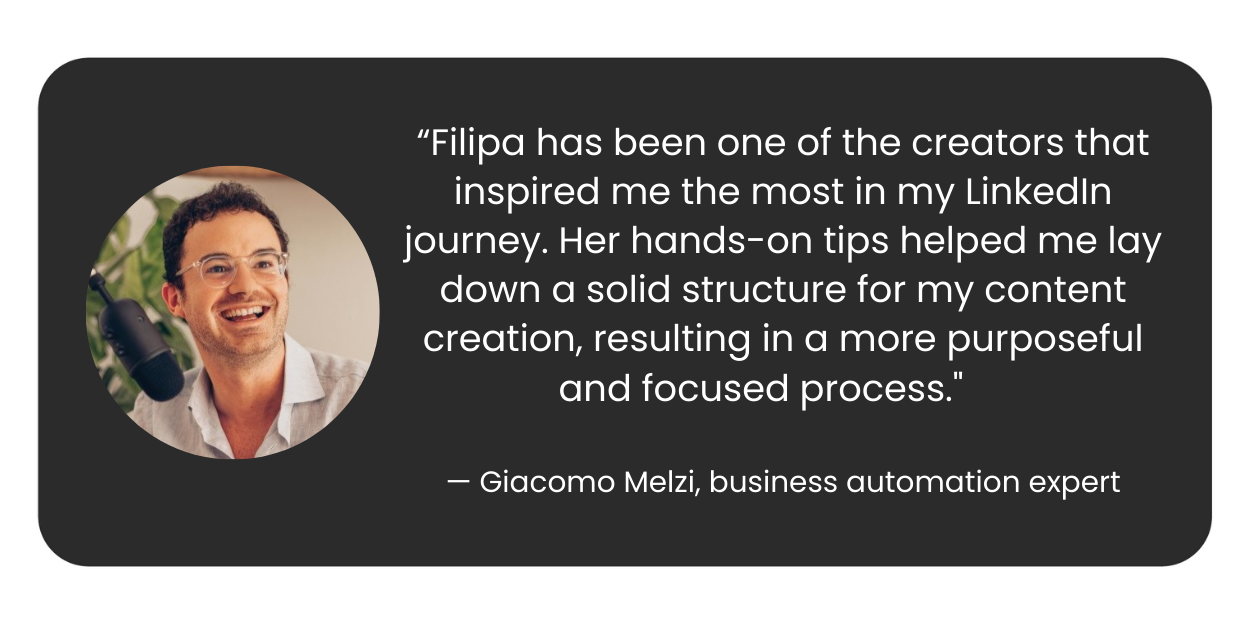 From "I don't know what to create" to filling your sales pipeline
The LinkedIn Ideation SystemTM helps you build an entire system to improve speed, consistency and quality of your published content. You just reap the rewards.
Get the LinkedIn Ideation System Now!
$99,00
- 2 hours of no-fluff video content
- Complete set of Notion templates
- Secret sources for endless content ideas
+ VAT tax (for EU citizens)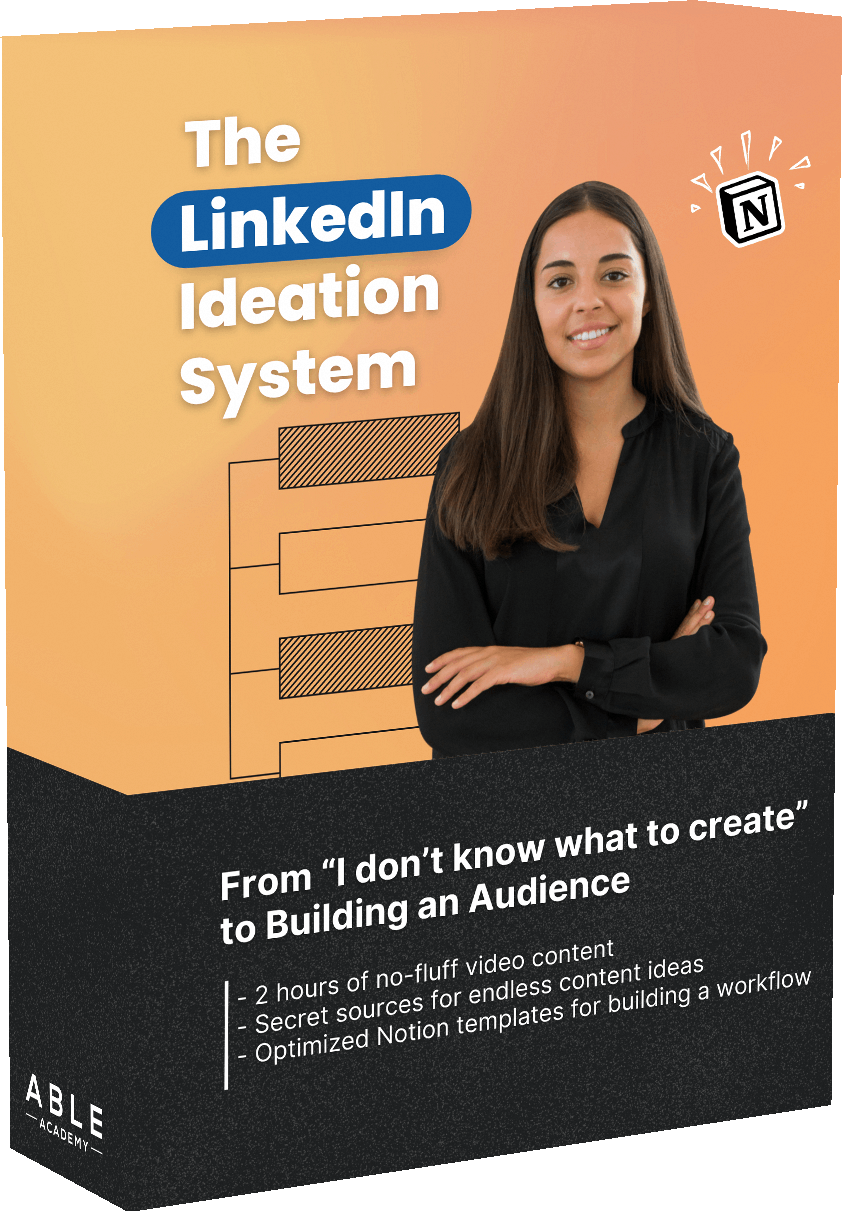 Frequently Asked Questions:
All digital products sold to non-business EU customers are required to include a VAT charge. This fee is automatically calculated at the checkout. (VPN works lol)
In Notion, any page can be made publicly available on the internet, which means you can duplicate my systems and use them, forever.
© 2023 Able-Academy. All rights reserved.
Check what people are saying...